New Center and Residence Realize Brown's Vision for an Integrated Student Wellness Experience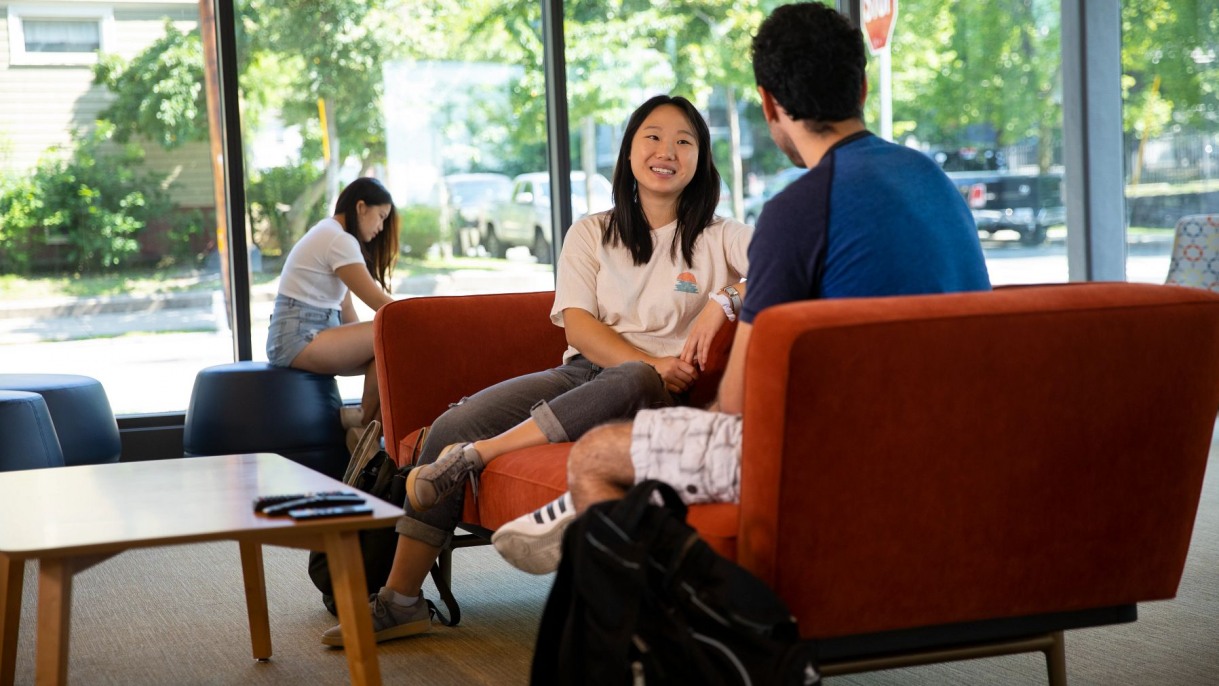 A collaborative health and well-being center
The vision of an integrated health and wellness facility dates back several years. The University began a collaborative design process in 2018, led the way in 2019, and celebrated the completion of the building's exterior structure at an event in 2020 bringing together project managers from Facilities Management, Shawmut Design and Construction, William Rawn Associates and other partners. The generous financial support of two main donations – a donation from the family of the late Duncan MacMillan and a donation from Barry Sternlicht and Mimi Reichert Sternlicht – allowed Brown to reach the finish line and open the doors of the building in May 2021.
Already, hosting Brown's core health and wellness services has created opportunities for deeper collaborations that positively impact students. For example, proximity has made it easier for cross-departmental colleagues to develop collaborative student wellness plans, said Tanya Purdy, director of BWell.
"Previously, we couldn't follow conversations that might take place in a meeting without intentionally planning time – first because we were in different buildings, then because for a year and a half we were working in our homes. "she said. .
Now, Purdy said, discussions can go faster and more efficiently. "We have had times before where we meet a student and we think it would be very suitable for therapy or to meet with a health service provider," she said. "Being able to call someone on their desk phone and say, 'Do you have 10 minutes for me to come to your desk and see you?' – it allows us to accomplish in real time what could have taken days.
This ease of collaboration increases the ability of Brown's health and wellness services to respond when a student's needs lie at the intersection of physical and mental health, said Dr. Adam Pallant, clinical director of health services.
"Many of the issues we see in health services intersect with mental health," he said. "We need a very close relationship with therapists and counselors so that we can look at what is going on with students in a holistic way."
As they have started to interact with each other in more informal settings, the health and wellness staff are also bringing new perspectives to the referrals they make, Pallant added.
"Each of us, as clinicians and CAPS providers, have different areas of interest and expertise," he said. "Now that we get to know each other's styles, we can make reference choices that will best suit a student's needs and personality. Knowing each other's unique strengths, we can share care much more productively.