Navy eases COVID-19 restrictions for vaccinated sailors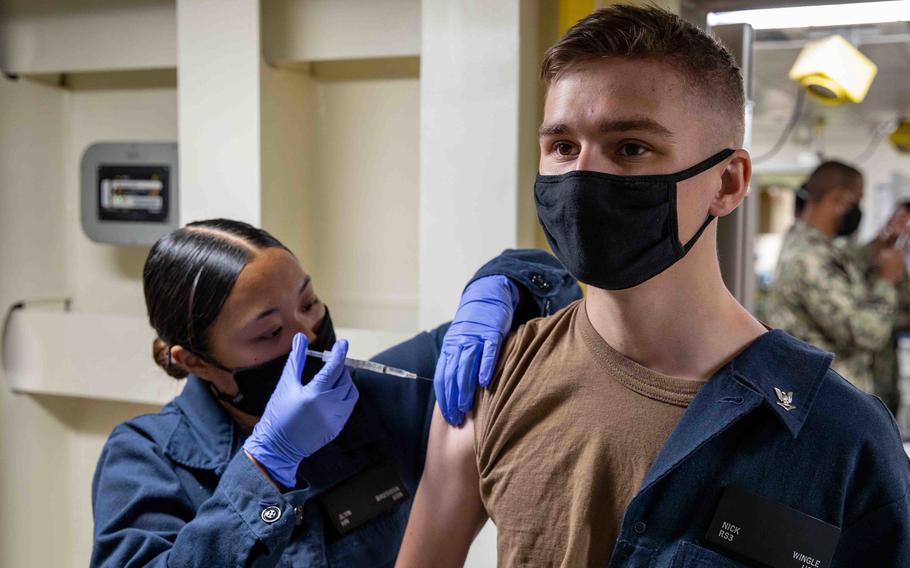 Seaman Jlyn Bautista administers a COVID-19 vaccine to Petty Officer 3rd Class Nicholas Wingle aboard the amphibious transport ship USS Arlington, April 23, 2021 (John D. Bellino / US Navy)
Sailors who have been fully vaccinated against COVID-19 can now make stopovers, often without a mask and deploy without quarantine first, the navy said.
"With over a year of operation in the COVID environment, we have gained significant expertise in mitigating and preventing the spread of COVID-19," said Vice Admiral Phillip Sawyer, Deputy Chief of Operations naval operations, plans and strategy, in a declaration. "Now, thanks to vaccines and science from the CDC, we are able to relax many of the procedures we have put in place while ensuring the health of the force is protected."
The rules apply to personnel on ships, submarines and aircraft, Sawyer wrote in a message broadcast Monday. Fully vaccinated personnel will be permitted to call at designated "safe harbor" ports, including Guam, Bahrain, Japan and Spain, and use gymnasiums, marshals and other on-site services.
They can also disguise themselves and stop social distancing in most situations. Masks will always be needed for medical and dental providers when treating patients, on public transport, and for those joining an ongoing team, regardless of vaccination status.
Sailors diagnosed with COVID-19 in the past three months and have antibodies will also be able to skip the 14-day quarantine before deployments, the message said.
Petty Officer 3rd Class Ricquel Boucher administers a COVID-19 vaccine to Chief Warrant Officer 2 Christopher Dearing in the hangar of the USS Gerald R. Fords, May 5, 2021. Sailors fully vaccinated against COVID-19 can now make a few stopovers, remove their masks and deploy without quarantine first, the Navy said. (Jackson Adkins / US Navy)
Unvaccinated sailors who do not have antibodies to COVID-19 will still be required to adhere to previous quarantine and testing protocols.
The pandemic has been particularly disruptive on ships and submarines, where social distancing in tight spaces is virtually impossible. Crews had had to board ships early for quarantine before deployments, adding two more weeks to the time away.
When deployed, ships avoided most stopovers. Some stayed at sea for 10 months.
This follows the massive infection of some 1,200 sailors, including one who died, on the aircraft carrier USS Theodore Roosevelt in March 2020.
The Navy now experiences the military's highest vaccination rate and lowest number of COVID-19 cases, Sawyer wrote. More than 230,000 Navy and Marine Corps personnel have been fully immunized, he said.
"We must continue to pursue full immunization and apply the best health protection measures at home and at work to maintain and improve this performance," Sawyer said.
Marines, who regularly deploy to Navy ships, have been less willing than sailors to be vaccinated. Almost 40% of the 123,000 Marines who were lucky enough to receive the vaccine in April had refused it, USA Today reported, citing Pentagon figures.
None of the fully immunized Sailors and Marines have been hospitalized to date for COVID-19, the Navy said, stressing the operational importance of widespread vaccination.
"The science is pretty clear, vaccinations are essential to better protect our sailors," Sawyer said. "The more sailors who are vaccinated, the better it is for them, their families, the navy and the nation."
Montgomery.nancy @ stripes.com
Twitter: @montgomerynance