Mental health benefits of visiting UK Woodland estimated at £ 185million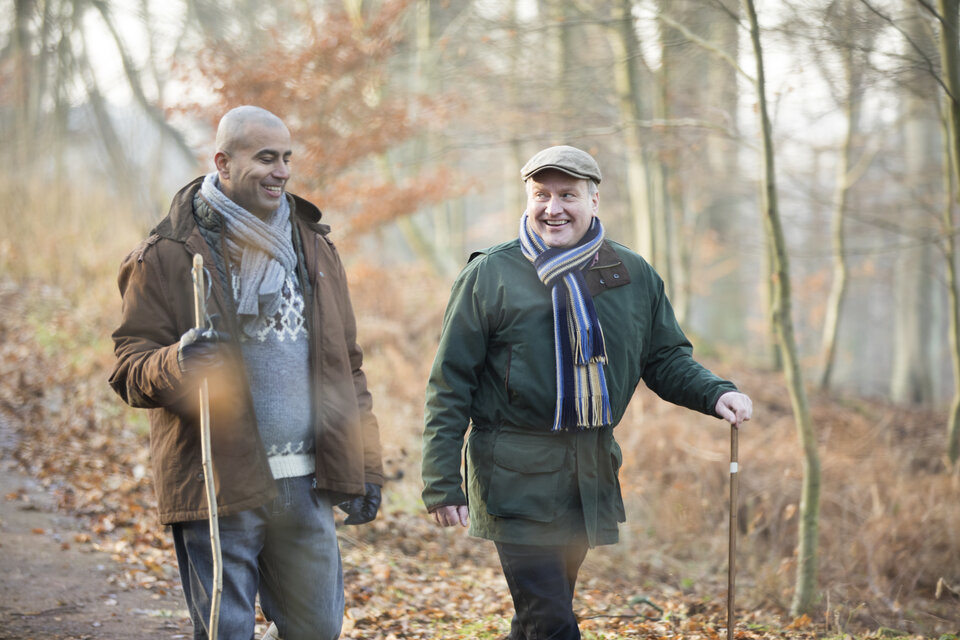 Visits to UK forests improve mental health and are expected to save £ 185million in treatment costs each year, according to a landmark report released by Forest Research today (December 4).
The report, published during 'National Tree Week' and funded by the Forestry Commission, Scottish Forestry and the Welsh Government, is the first time that the health and welfare benefits of UK forests have been quantified .
For England in particular, the forests save £ 141million in costs associated with mental illness, including GP visits, prescriptions for drugs, inpatient care, social services and healthcare. number of days lost due to mental health problems. The figures are based on evidence of the reduced incidence of depression and anxiety resulting from regular visits to forests.
During the coronavirus pandemic, the prevalence of mental illness has increased. Access to trees, woods, forests and other natural environments, including urban parks and green spaces, has become even more important for people in order to support and maintain their well-being. Of the visits to all green spaces over the past 10 years, from farmland and countryside to parks and playgrounds), 14.1% were made in woods.
In urban areas, trees and woods are essential for communities, supporting well-being, reducing pollution and improving quality of life. In support of this, the report finds that the value of street trees through the avoided antidepressant costs linked to mental health issues is £ 16million.
The report also reveals that in the longer term, the value over the next 100 years is estimated at just over £ 11bn for the mental health benefits of visits to the forests, and an additional £ 1bn. for the mental health benefits of street trees.
Forestry Commission Chairman Sir William Worsley said:
This report shows how vital it is to invest in healthy trees and forests. This makes medical sense because it will mean better health for everyone; economic sense, saving society millions of pounds and this makes environmental sense, helping us meet the twin challenges of climate change and biodiversity loss.

In this National Tree Week, let's all go out, enjoy the trees in town and in the countryside and enjoy the closeness to nature.
Nearly half of the population say they spend more time outdoors than before the pandemic, while the majority of adults surveyed by Forest Research agreed their level of happiness in the woods and nature has increased. .
As the recent host of the COP26 climate change summit and chair of the G7, the UK is at the top of the climate change agenda. Today's report highlights the role of nature as our most valuable asset, reiterating the dependence of economies, livelihoods and well-being on nature.
The government has pledged to triple tree planting rates by the end of this Parliament. Its new Tree Action Plan in England will deliver unprecedented tree planting rates, helping to create diverse forest landscapes across the country, which will benefit wildlife, the environment and well-being. people.
Read the "Valoring the Mental Health Benefits of Woodlands" report here.
For more information on the welfare opportunities in the forests of our nations, please visit the Forestry England website.
Supporting quotes:
Welcoming the study, Scottish Government Environment Minister MÃ iri McAllan said:
Scotland's forests and woodlands provide many environmental, social and economic benefits to society. During the Covid-19 pandemic, access to forests became even more important for individuals in supporting and maintaining their well-being.

It is widely recognized that spending time in the woods can have a positive effect in relieving conditions such as depression and anxiety. This study is important because we now have a clear dollar value on the value of our forest resources for tackling poor mental health.
Welsh Deputy Minister for Climate Change Lee Waters said:
Earlier this year I launched a national call to arms for us to plant more trees in Wales and one of the reasons for doing so was the benefit they have on our health and well- be mental.
I welcome this report, which is fascinating to read and provides even more evidence of why we need to plant more and more trees if we are to create a stronger, greener and fairer Wales.

According to the Climate Change Committee, to reach net zero we need to plant 43,000 hectares of new trees by 2030, then 180,000 hectares by 2050. That means planting around 86 million trees in the nine coming years. To achieve this we have big ambitions including creating a network of high quality multi-purpose forests across Wales and today's report really shows how this work will have a positive impact.
Stephen Buckley, chief information officer for mental health charity Mind, said:
Spending time outdoors – especially in the woods or near water – can help with mental health issues like anxiety and mild to moderate depression. This could be due to the combination of regular physical activity and social contact with nature outdoors. Being outside in natural light can also help if you have Seasonal Affective Disorder (SAD), a type of depression that affects people during certain seasons or times of the year. While many of us want to hibernate in the winter, going out into green spaces and enjoying the little daylight can really be beneficial to both your physical and mental health.